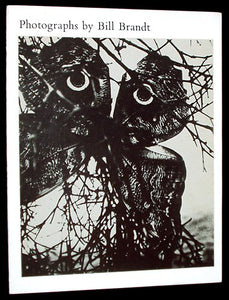 Title: Photographs by Bill Brandt
Publisher: International Exhibitions Foundation, Washington, D.C.
Publication Date: 1980
Binding: Soft cover
Edition: 1st
A catalogue for a traveling exhibition of Bill Brandt's photography spanning 1929 to 1976, sponsored by the British government and drawn from the collection of the Victoria and Albert Museum. Introduction by Mark Haworth-Booth; foreword by Annemarie H. Pope. Staple-bound; 16 pages; 10 full-page b&w plates; 9.25 x 11.75 inches. Small glue residue mark from old peeled-off price label.