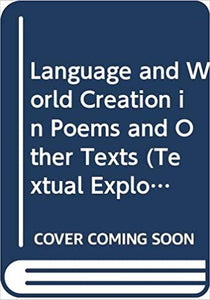 Hardcover :

 

288 pages

ISBN-10 :

 

0582301998

ISBN-13 :

 

978-0582301993

Dimensions :

 

14.22 x 2.79 x 22.86 cm

Publisher :

 

Longman (18 July 1997)

Language: :

 

English

Good condition with original dustwrapper.

This is an interdisciplinary and practical approach to the analysis of poetry which focuses on text worlds, namely the contexts, scenarios or types of reality that readers construct in their interaction with the language of texts.

About the Author

Elena Semino is Lecturer in the Dept. of Linguistics and Modern English Language at Lancaster University. She is extremely well thought of academically and is an active member of the stylistics assoc. PALA. Having Mick as the more experienced series editor and 'name', coupled with Elena as a young, bright academic, the combination of the two editors should work well.